Fishing
Here in Manitoba, we do secluded and scenic incredibly well. We do fishing and hospitality even better. Enjoy a break from whatever you're doing and come with us deep into a wilderness adventure you'll want to revisit again and again.
Pack your gear
With over 100,000 lakes, teeming with countless species Manitoba is an anglers paradise. Our lodges and outfitters offer first class
Manitoba's Master Angler program - the oldest master angler program in North America - honours anglers who catch trophy fish in our province
Upcoming Events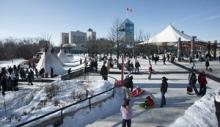 12/16/16 - 02/28/17
Winnipeg
10/15/16 - 03/31/17
Winnipeg
SEE ALL EVENTS
Special Offers
Guests of the Arctic Discovery safari will experience opportunities for breathtaking wildlife encounters as they walk with...
Featuring family-focused activities, the Summer Family Adventure by Frontiers North is perfect for family travellers who are...
SEE ALL OFFERS
See some of the great adventures and experiences Manitoba has to offer!