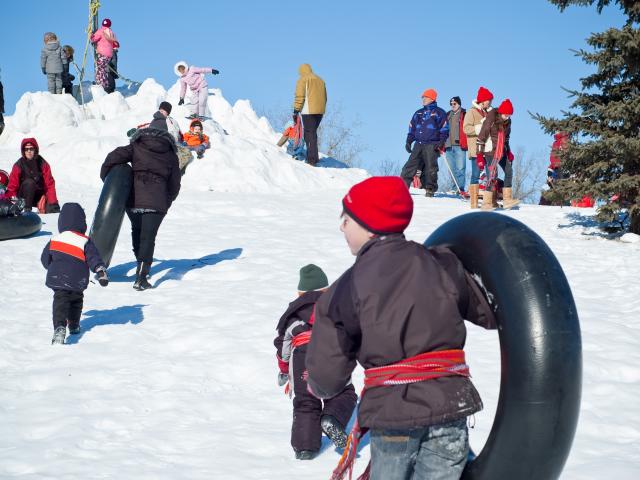 Toboganning, Festival du Voyageur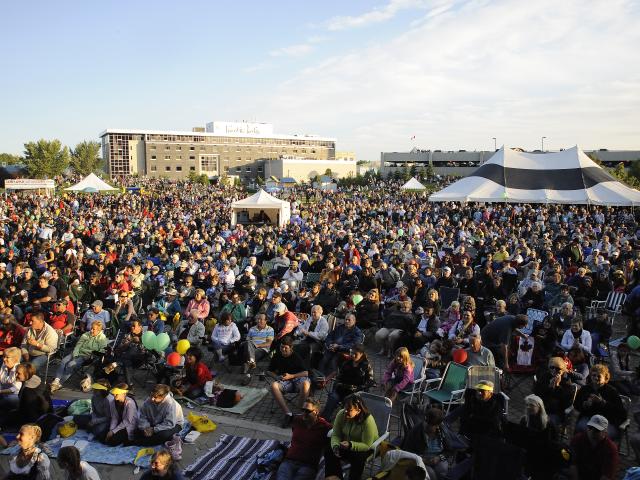 Crowd at The Forks for Folklorama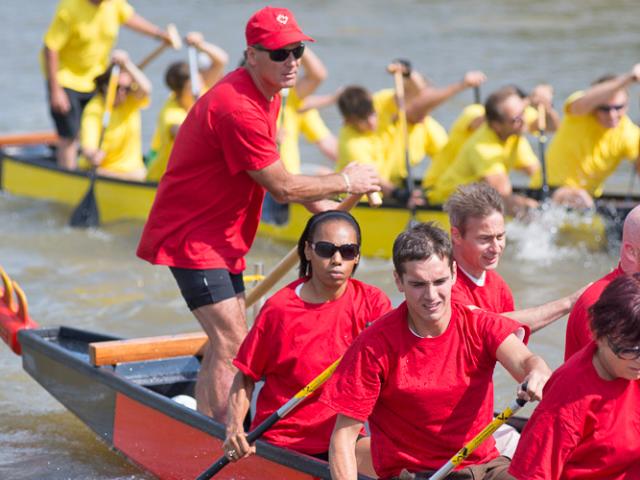 Dragon Boats on the Red River, Winnipeg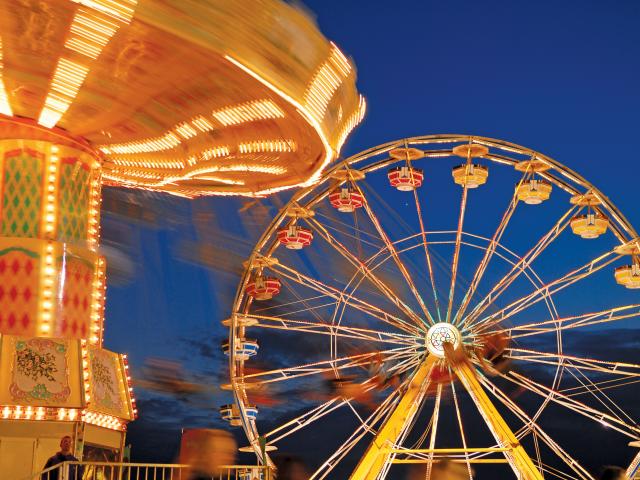 Night Time Rides, Red River Ex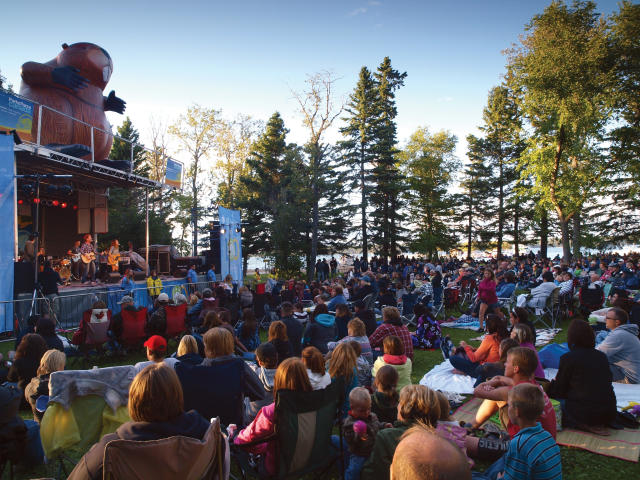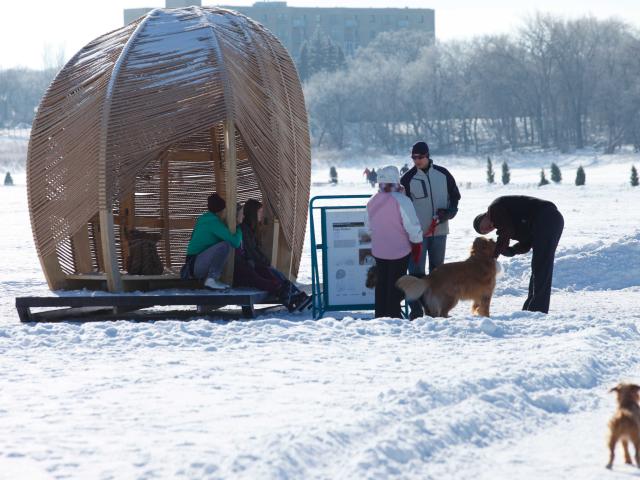 Warming Hut, The Forks 74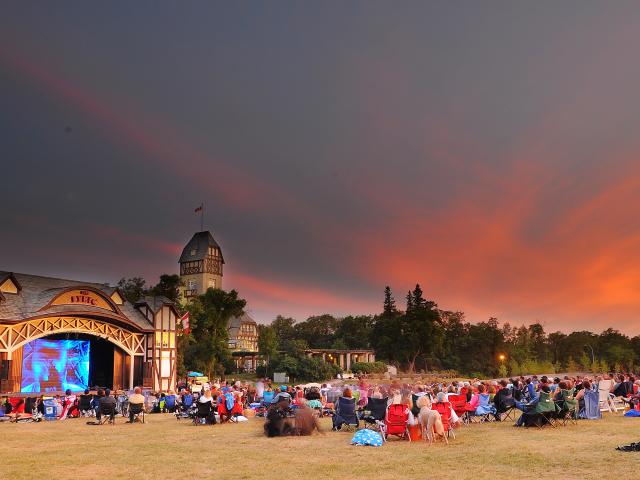 Outdoor entertainment at Lyric Theatre in Assiniboine Park
Winnipeg's largest park. Assiniboine Park's lush green lawns are a popular gathering spot in summer with live entertainment, movies and concerts at the outdoor Lyric Theatre.
Festival-goers take in live entertainment at Old Market Square during the TD Winnipeg International Jazz Festival
Celebrating 25 years in 2014, the TD Winnipeg International Jazz Festival brings together the world's best jazz, blues and urban artists to downtown. The festival kicks off with four spectacular days of free music in Old Market Square in the Exchange District
Credit: Dan Harper
Spectacular snow sculptures at Festival du Voyageur
Festival du Voyageur, Western Canada's largest winter festival, celebrates the traditions of Manitoba's fur trading history with the vitality of the franco-manitoban community of today. Admire snow sculptures created by artists from around the world. Dancing and jigging to lively music, tasting French-Canadian food and more.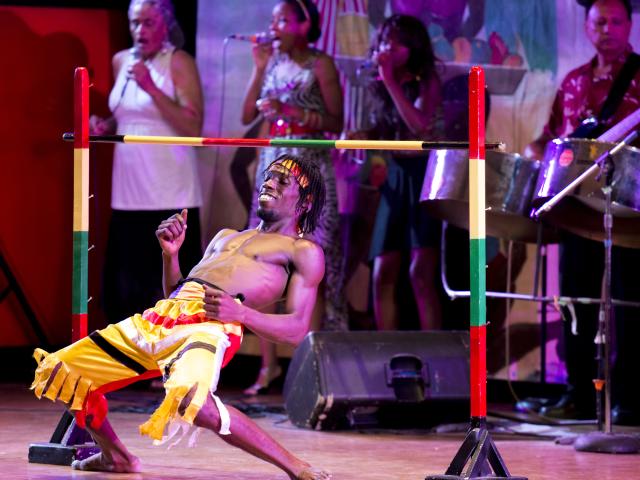 Africa/Caribbean Pavilion at Folklorama
Dazzling dancers, infectious music and tantalizing cuisine will be sure to get your heart pounding at the Indo-Caribbean Paradise Pavilion! High energy dancers showcase their elaborate costumes to the rhythmic music of a steel pan orchestra. Excite your taste buds with some mouth-watering curry chicken or beef with rice, jamaican patties, jerk wings, and signature punch.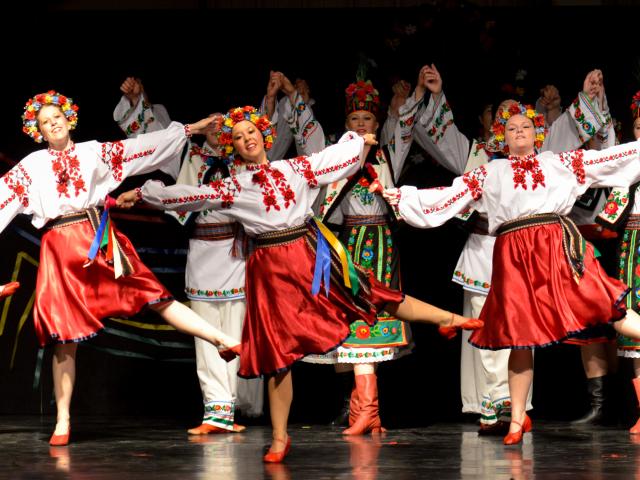 The Spirit of Ukraine Pavilion at Winnipeg's Folklorama
You'll find food and dancing galore at one of Folklorama's longest running pavilions! While you enjoy the colourful and acrobatic action from the dancers on stage, tuck into tender varenyky (perogies), flavourful holubtsi (rice-filled cabbage rolls), a selection of hearty kovbasa (garlic sausage). But make sure to save room for decadent tortes and delicious cheesecakes!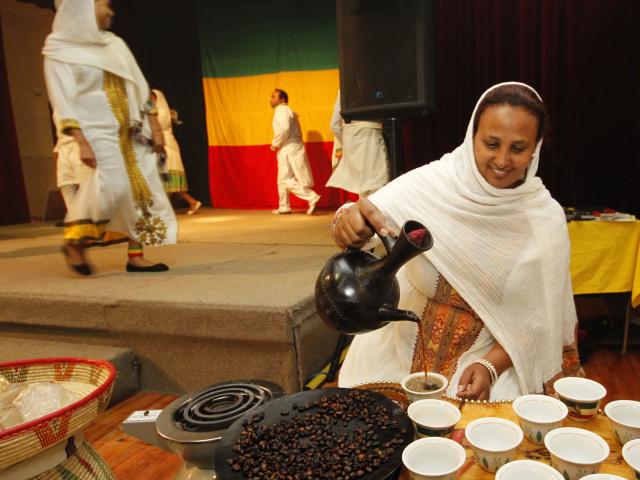 If you love coffee, then Folklorama's Ethiopian Pavilion is a must for your summer to-do list!
If you are a coffee lover, then Folklorama's Ethiopian Pavilion is a must for your summer to-do list! Ethiopia is the birthplace of coffee, as the plant (Coffee Arabica) grew wild in the rich volcanic soil of the Kaffa Region. According to legend, "Kaldi" an Ethiopian goat herder, discovered coffee after he noticed his flock became livelier after nibbling on the bright red berries! Java enthusiast's can enjoy the Buna" Bejebena coffee ceremony, (a important part of Ethiopian cultural life), alongside other traditional dishes including injera, a sourdough flatbread, and amazing spicy stews.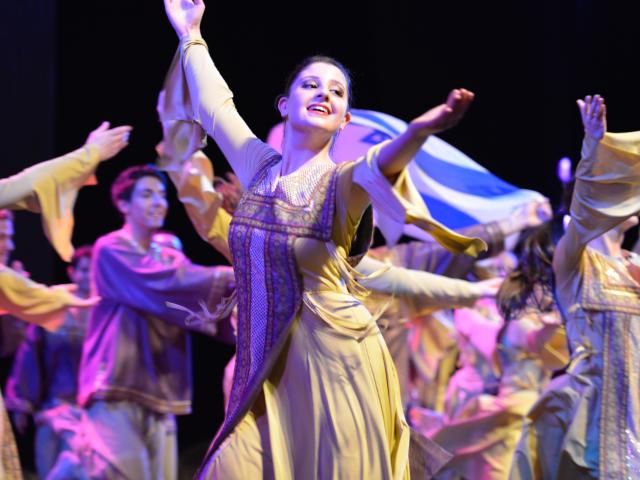 A spectacular performance is guaranteed at Folklorama's Israel Pavilion at Winnipeg's Shalom Square
A spectacular performance is guaranteed along with beautiful artwork and great food at Folklorama's Israel Pavilion. Come enjoy a variety of mouth-watering favorites like potato latkes, hamentashen, strudel, and matza ball soup.  There is also Mediterranean falafel, an array of tasty desserts, and imported wine and liqueur
The Korean Pavilion at Winnipeg's Folklorama
Brilliant colour and mesmerizing fan dances make Folklorama's Korean Pavilion a fantastic spot for an evening out with friends.